Olson concluded its fourth annual NXMW Marketer Summit yesterday, and what an incredible day of learning it was. The invite-only conference brought together marketers from around the country—clients and non-clients—for inspiring sessions from experts. In case you couldn't make it or want to relive the awesomeness, here's a recap of some of the event's highlights.
1.Morning keynote: Charles Duhigg, author of the New York Times bestseller The Power of Habit and Smarter, Faster, Better Charles argued that the power of productivity stems from knowing what rituals and rewards are needed in order to create a new habit, discussing how today's marketers are applied psychologists who are observing and changing behaviors. Behavior change, he said, comes from understanding what motivates your audience, and by teaching people why they do things, we empower them. Charles also talked about using rewards effectively: "If you want to create a new habit, you have to know if the reward you're creating is really rewarding. The most powerful rewards contain emotions."
Photo by Aimee Jobe
2. CMO Panel: Beth Brady (Principal Financial Group), Dick Lynch (Popeyes), Heather Passe (Regis), Tim Scott (Land O' Lakes) 
The CMO panel was a frank, moderated discussion that included topics ranging from what these executives expect from agency partners to the top challenges they face. There was a heavy focus on data, with Dick quipping that "Big data is just a bunch of little data." Heather, our Regis client, pointed out the importance of actionable information: "We built a database and connected it to an omni-channel environment. It lets us know what works at a customer level." She also emphasized the importance of seamless IT and marketing integration: "It works best when you've got both [sets] in the room and no one can tell who's with what group." 
Photo by Aimee Jobe
3. Conversations With Innovators: Nicole Portwood (Tito's Handmade Vodka), Robert Stephens (Geek Squad founder)
Nicole Portwood told the endearing story of Tito's Handmade Vodka and how Tito himself failed many times before launching the vodka brand. "He started Uno Oil just before the oil crash, and a mortgage company just before the mortgage crash." She emphasized the important learning that can come from failure, and the importance of delivering a high-quality product at a good price. Interestingly, Tito's has never defined a target audience. it's always been more about defining the brand.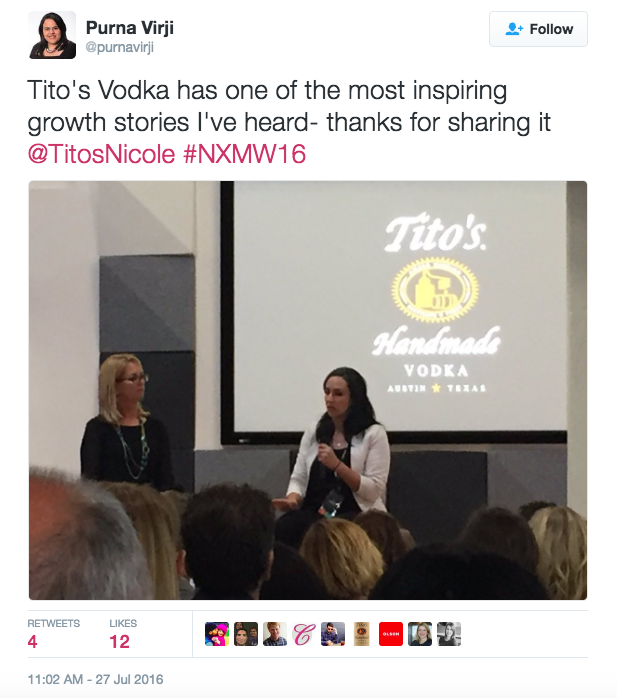 Then, Geek Squad founder Robert Stephens presented a hilarious talk about the inception of the brand in Minnesota and how it became the well-known service brand it is today. Stephens talked about logo design (he wanted it to look like the 'STP' logo), driving his first company car (it was old-timey and French with 8 ashtrays), and the nomenclature of the brand, especially how "squad" denoted that it was a brand made up of more than just himself initially. The devil was in the details, and Robert knew this from the start. He also talked about the importance of simplicity: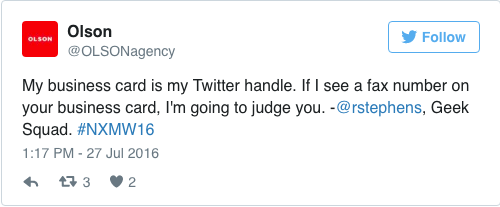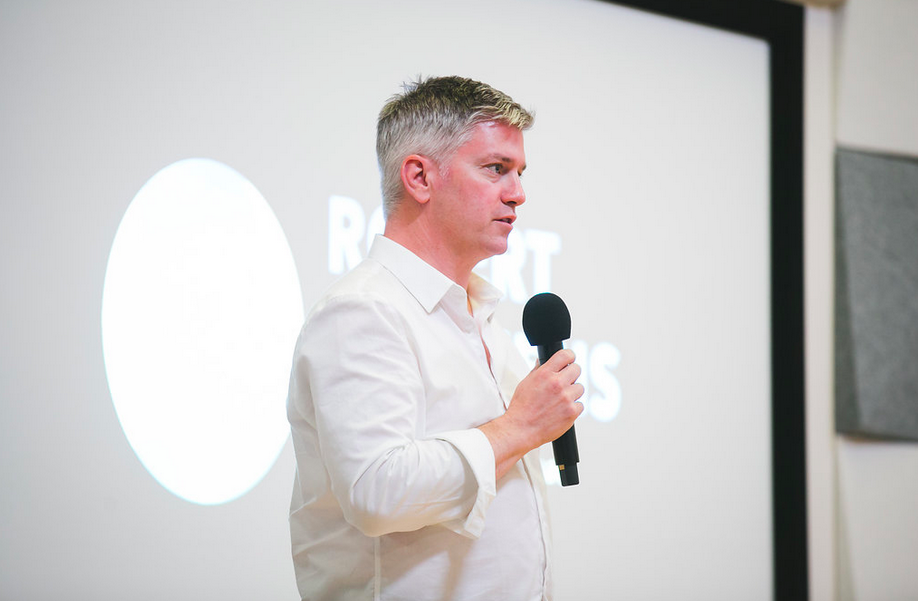 Photo by Aimee Jobe
4. Breakout session: Jurene Fremstad, Olson SVP of Strategy, "Think Like People"
Olson SVP of Strategy, Jurene Fremstad, presented two breakout sessions yesterday afternoon focused on the agency's human-centric ethos, "Think Like People." She spoke about empathy being increasingly important in marketing—almost to the point of being a buzzword - but that we need to think of it as something we DO, not HAVE. Making empathy possessive puts up a wall. She also noted that empathy is waning among college students and this is something we as marketers need to understand as apathy is essentially a major threat. Overall, ask yourself whether you are considering the full person, whether you'd engage in the activity you're proposing as a marketer, and whether you're solving a real problem for real people. We'll have a full recap of Jurene's talk next week.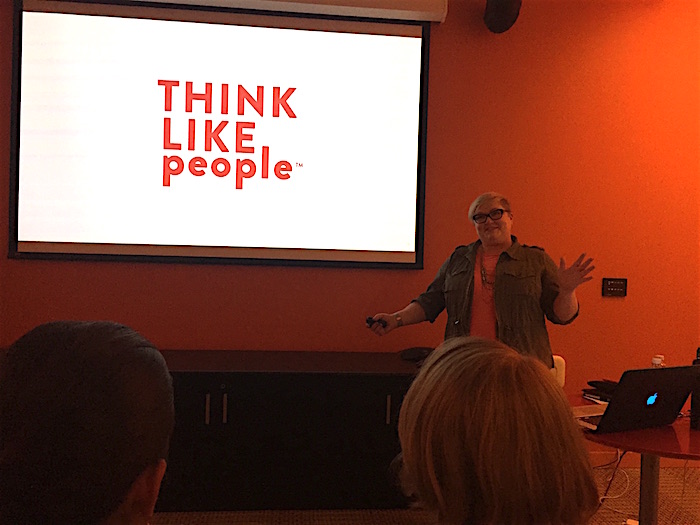 5. Closing Keynote: Mark Bowden, author of Winning Body Language: Control the Conversation, Command Attention, and Convey the Right Message Without Saying A Word
Friend or Foe? Bowden, an expert in human behavior, body language and communication gave lessons in how body language triggers that pervasive little voice in your head responsible for judgment. Mark was a charming presenter but some of his takeaways were jolting, to say the least: 
Mark shared the four "judgment zones" most people are placed in by people they meet: Friend, Predator, Potential Mate, or Indifferent. Your body language is all about the now --how do you feel now about this individual? Mark connected the dots to show how mastering the art of the TruthPlane (also his Twitter handle) can help you win trust and build influence. The crowd roared with laughter as they participated in an exercise that showed how symmetrical versus asymmetrical gestures can help or hinder communications. And by the looks of the room, Mark hit a chord with the idea that while content is important, it is not as important as how you convey it with your voice and body. In order for your intended audience to receive your message, you need them to know they can trust you and believe what you're saying.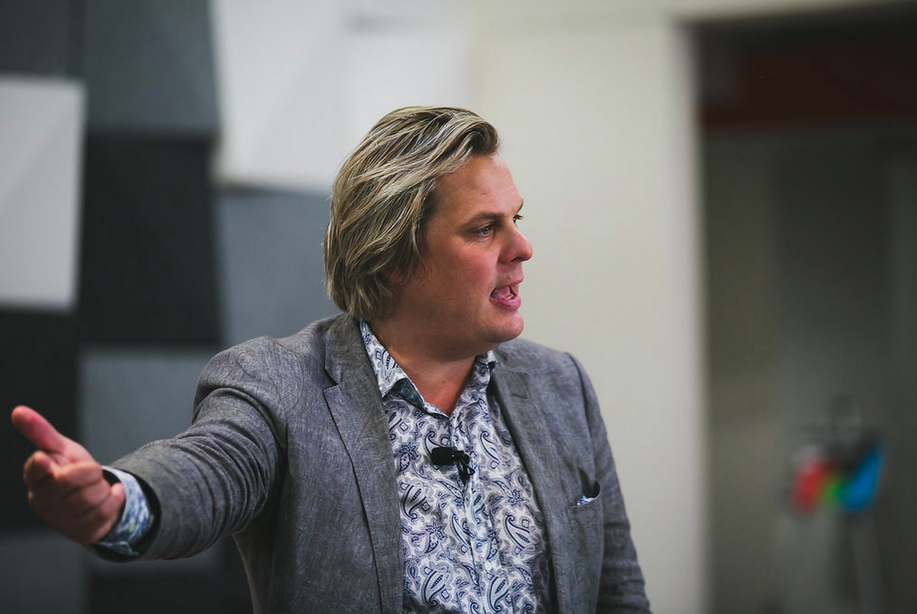 Photo by Aimee Jobe
For more insights, follow #NXMW16 on Twitter. Cheers to all who came out to our event, we loved seeing you!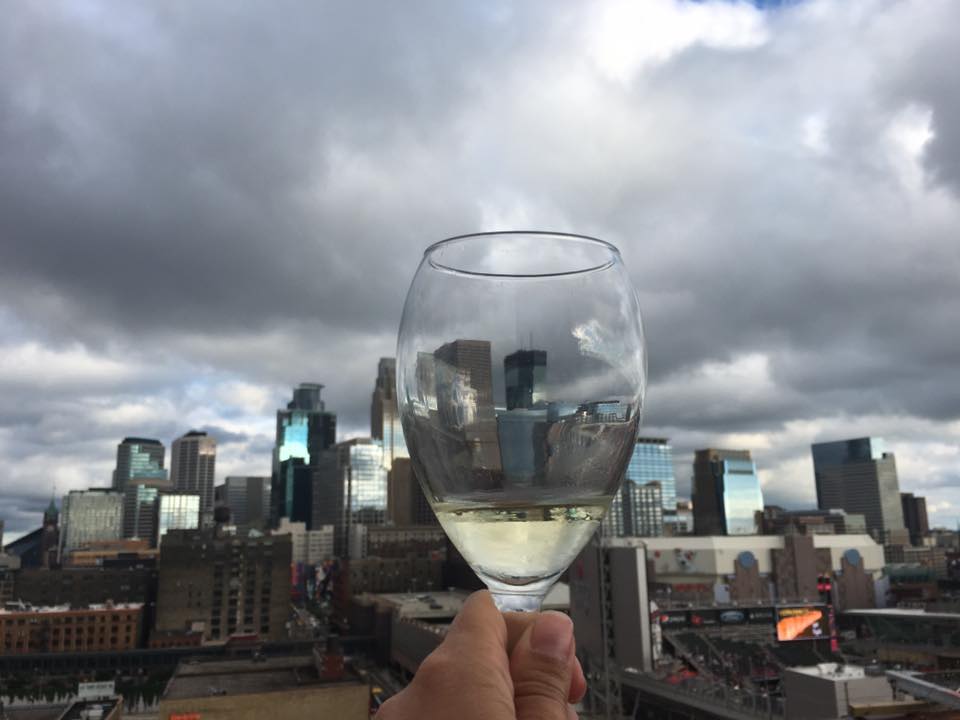 Photo by Nicole Nye