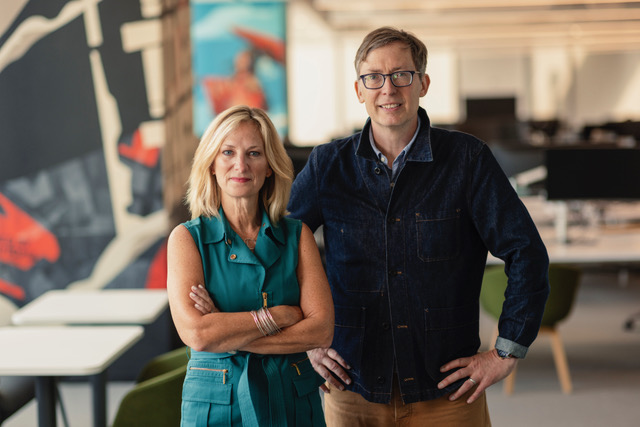 Audrey Melofchik, CEO of Wunderman Thompson North America, announced today that top creative talent Tom Murphy will join the agency as Chief Creative Officer. Known for his track record of creative excellence that drove McCann's most celebrated work of the past decade, including the iconic "Fearless Girl", Tom's access to Wunderman Thompson's toolbox of end-to-end capabilities will inspire endless ideas and solutions to impact its North American clients.
Tom has spent 16 years at McCann, most recently as North American CCO and has influenced creative talent and effective work over the course of his career. His work has impacted brands including Verizon, Mastercard, Microsoft, Ulta Beauty, Lysol, Mucinex, MGM Resorts, NY Lottery, USPS, and HomeGoods.
He will report to CEO Audrey Melofchik. Wunderman Thompson's Global Chief Creative Officer, Bas Korsten has been acting NA CCO for most of 2022.
"Wunderman Thompson has such a massive breadth of capabilities. When those capabilities meet creativity - they become superpowers," said Tom Murphy, Chief Creative Officer, Wunderman Thompson North America. "From my earliest conversations with Audrey and Bas, I sensed their ambition for the future of Wunderman Thompson North America. In our first call, I underlined two key words in my notebook: ambition and creativity. I could immediately tell we value the same things and will achieve great things together."
During Tom's tenure at McCann, he oversaw some of the most talked about and award-winning ideas of the past decade ranging from "Fearless Girl" for State Street Global Advisors, "True Name" campaign for Mastercard, "Universal Love" for MGM Resorts, "Generation Lockdown" for March for our Lives, and "Changing the Game" for Microsoft - which centered on the brand's adaptive Xbox controller that makes gaming accessible to players with disabilities. He originally joined McCann as a group creative director in 2004, from DDB Chicago, where he worked on top brands McDonald's, Budweiser and Bud Light.
"Growth challenges facing clients today require an agency partner steeped in expertise across their entire ecosystem with creative firepower to ignite it in completely new ways," said Audrey Melofchik, who became CEO of Wunderman Thompson North America in 2021. "From the moment I met Tom, I knew he was the perfect partner to lead WT NA as we blaze a trail of inspiring creativity and growth with our client partners. He is an amazing thinker, leader and human being."
Wunderman Thompson North America is enjoying momentum with a series of new business wins including Snap and Courvoisier while expanding its portfolio of work for Pfizer, Samsung and Walgreens. The agency also recently won the Foundation to Combat Anti-Semitism account (beating Droga5 and BBDO in a review), an integrated campaign which will launch in January 2023. In June, Wunderman Thompson was awarded the first BtoB Grand Prix at Cannes for Sherwin-Williams Speaking in Color, a voice-activated AI color system.
Beyond Tom's appointment to CCO, Wunderman Thompson has been building out its bench of talent with the additions of FCB's business development leader, Laura Cona, as Chief Growth Officer for Wunderman Thompson North America, celebrated BBDO ECD Susan Golkin for Wunderman Thompson New York, BBH LA creative lead Ned McNeilage as Chief Creative Officer of Swift (a Wunderman Thompson Company), and Josh Loebner as Global Head of Inclusive Design. Earlier this year, they acquired influencer agency, Village Marketing.
"Tom coming on board is a testament of our future-forward creative ambitions for clients that we have as Wunderman Thompson in North America, as well as globally. He has proven himself as a powerful and inspiring creative leader that can impact business and culture," said Bas Korsten, Global Chief Creative Officer, Wunderman Thompson. "I really can't wait to see how Tom is going to inspire our ambitious clients and our people. He is the real deal."